K. T. Mother's Grave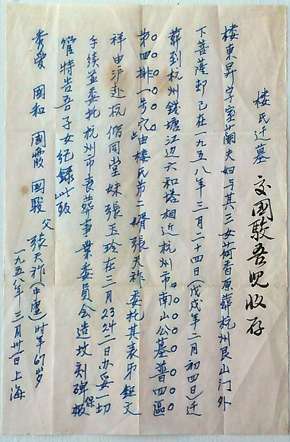 May 2018, paraphrasing KT's description of the document above:

My father wrote this in 1958, when he was 67 years old. It is address to the four of us, as you can see on the left: Anne, Koal, KT, and Guo Xia. My mother died very young. My father felt bad about his role in it, so he ordered a big funeral and grave site, with a large stone monument engraved with calligraphy.

In 1958, the communists decided that this grave would be suitable for an important person like Chairman Mao, but not an ordinary citizen. They ordered that the grave be moved. They were quite reasonable then. This was before Mao went crazy and things became very bad.

The letter shows the exact location of the new grave, marked with circles. Since that time, the grave had been moved again, maybe multiple times, but the records are lost. Nobody knows where the grave is now.

The characters in black ink on the right were written specifically for me: "For KT to keep as a record"


---



©2018 K. T. Chang. All rights reserved.
Web page design by Gray Chang

---