---

Tribute to Lao Lao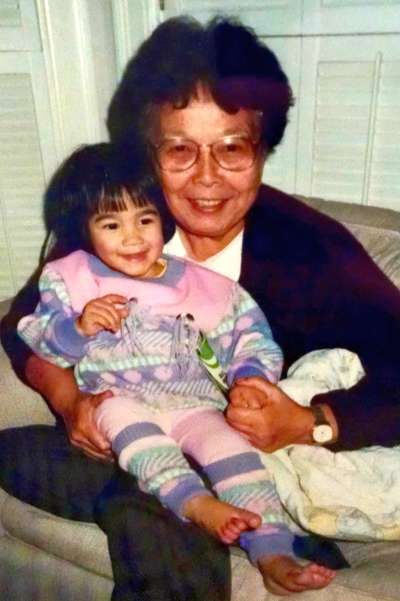 August 6, 2016

I'll always remember my grandmother's vivacious spirit. She was so full of life. I remember her saying it wasn't a real party unless at least thirty guests were in attendance. Gatherings at her house were full of food and merriment. I remember Lunar New Year parties with Chinese gambling games. I remember playing endless variations of rock-paper-scissors, each with phrases called out in Chinese. (I would later realize that these were clearly drinking games.) I remember singing Christmas carols around the piano as my grandmother called out instructions like "just the girls sing now" and "sing lower." I especially remember -- who could forget -- playing charades and watching my grandmother pantomime pulling down her pants before going the distance and, to our utter astonishment, proceeding to moon us all. She was a hilarious and uproarious grandmother like no other.

As a little girl I loved visiting my grandparents at their house in Saratoga. We all remember Lao Lao's immense love of garage sales -- even when her vision was clouded by cataracts, she was somehow eagled-eyed when it came to spotting a garage sale sign across the street. This meant that every time we visited there were new toys to be found in her play box. I also have fond memories of her including me in her many hobbies. I felt so special when she asked me to help with her stamp collection by soaking the envelopes and carefully peeling back the stamps. She let me to collect and press flowers for her hand-made greeting cards. She let me wash the brushes for her Chinese brush painting. Gong Gong too would let us help him by collecting his golf balls from all over the backyard.

My grandmother could be very mischievous at times. I remember once we had all piled into the car to go out to eat at one of our favorite Chinese restaurants. Lao Lao needed to mail a letter. We offered to hop out of the car for her, but she insisted on doing it herself. "Walk slowly," we said. "You might fall, so take your cane," we said. "Don't be in a hurry, walk carefully," we said. She got out of the car, ignored our nagging, and ran to the mailbox.

I feel lucky that I got to have 27 years with my grandmother, to really get to know her. How good she was at Chinese tongue-twisters (and how bad she was at English ones). How she named her pet bird Hao Gou, which means "good dog." How she would say "Bring me my Cadillac" when she needed her walker. I got to know how loving and affectionate she was: she'd clap you on the wrist or slap you on the shoulder to show you she liked you. When we traveled to China together, we fell asleep holding hands. (I also learned how loudly she snored). I remember she used to sing the Beatles song, "I Want to Hold Your Hand" and reach out her hand for you to take. The last time we sang the Beatles together was at Brian's wedding when Monette serenaded the crowd with her lovely rendition of the song.

Throughout my life, for me, Lao Lao has represented my connection to my Chinese heritage. Why study Mandarin in school? Because it makes my grandmother so happy to hear me speak in her native tongue. Where did my (unusual) Chinese name

夏碧梅

come from? My Chinese grandmother picked it for me: it means plum blossoms the color of jade. Why skip two weeks of tenth grade to travel to Bei Jing? Because I want to see where my grandmother grew up. Lao Lao loved America but she was also fiercely Chinese. Whenever I had questions about Chinese language, culture, or customs, she would be my go-to source. She was often more accurate than Google. One time we asked her for the name of the Chinese dating game show she and Gong Gong liked to watch. According to Google, its name is "If You Are the One," but Lao Lao translated it for us as "Only For the Desperate." Watching the show, I think her name was more accurate.

I learned some important life lessons from my grandmother. Some mundane things, like: don't serve ice cream by using a wimpy spoon; get a Chinese cleaver and hack it into efficient chunks. Some more profound things, like: welcome people into your life with a generous spirit, and you will always have a happy home.

While I am so sad to lose her, I know her spirit will live on through all the lives she touched. Her warmth, her liveliness, her colorful personality, her special sparkle. I feel so lucky to have had such a wonderful grandmother.


---

A message from Robert M. to Julie

Dear Julie,

You've been in my thoughts a lot ever since I heard of your mom's passing. I wanted to let you know how blessed I feel to have known her. I don't think I've ever met someone who delighted so purely in the presence of others. I'll always remember the way her eyes would light up when someone walked into the room, or how she would have her family sit next to her and hold hands, just because she liked them so much. I hope I can be like that someday.

With love,
Robert


---
Back to Rose Chang memorial page
---