Supplies to Build a Cardboard Camera Obscura
Step-by-Step Instructions With Pictures

The instructions show you how to build a camera obscura out of cardboard. For your convenience, you can purchase a hobby knife, a magnifying lens, and 2 sheets of 5-by-6 inch paper vellum for $10, delivered by U.S. Mail.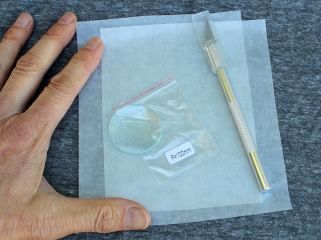 The lens has a diameter of 38 mm (1.5 inches) and a focal length of 100 mm (4 inches). The f-number is f/2.6. It is made of high-quality glass with smooth edges. The knife is very sharp and comes with a plastic sheath over the blade. Adult supervision is required.
To order these items, go to PayPal.com and send $10 to Gray Chang at this email address:
If you haven't used PayPal before, you'll need to create an account, which takes a couple of minutes. The payment comes from your credit card or bank. In the "Add a note" section, specify your name and address for delivery.
I'll acknowledge your payment and send out the items within 5 business days. The price includes delivery by mail to U. S. addresses, and taxes where applicable. Sorry, no foreign orders. You can email me using the address above if you have any questions.
You also need to get the following supplies on your own:
1 sheet of cardboard at least 18 by 19 inches

White glue or wood glue
1 brown paper bag
Scotch tape or packaging tape
Scissors


---