---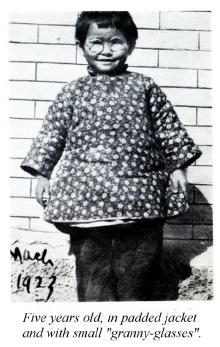 They called me Shiau Yen Jinger -- little glasses. They were such a permanent feature of our family's life that when my other grandmother, who was very fond of Mah-Jong, came to visit and wanted to play a few rounds, she would borrow them as a matter of course if she had forgotten to bring her own. She died when I was very young, and regrettably -- for I'm sure she was a very worthy lady. I can remember very little about her: the glasses were our only point of connection. She was just someone whom I could hardly understand, because she came from Shanghai in the south and spoke with a funny accent.

I do know, however, that her husband -- Mother's father -- was British. He came to China towards the end of the last century on a mission of some eccentricity. Carrying coals to Newcastle, he arrived to teach the Chinese how to use gunpowder, and eventually became the director of the Kiang Nan arsenal in Shanghai.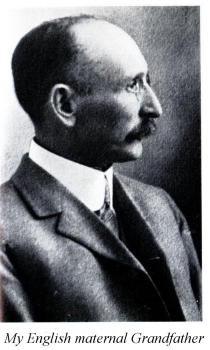 Like a lot of colonial Englishmen away from the shackles of Victorian England, he was obviously much attracted to the local women. The Grandmother who borrowed glasses was, if not the second, then the third of his Chinese wives, and she herself was only Mother's stepmother, her real one having died in childbirth. Eventually, having produced arsenals of ammunition and several half-caste children he retired and returned to England where he settled down to a respectable dotage, nursed by an English daughter, the off-spring of an earlier marriage in his own home country.

I only saw him once, and it was very frightening. He had come to Peking to visit his daughter. Dutifully, he asked to see his sleeping grandchildren. The light which streamed through the gently opened door woke me up, and I saw the silhouette of a strange hawk-like face surmounted by an enormous hooked nose. At least, to a little Chinese girl it seemed enormous. Even larger than the non-Asiatic noses of the Russian community in Peking. We called them "Big Nose," and it was not a compliment. The door closed, and next morning he was gone.

My mother, who is now eighty-four, can remember little else about him. His name was Nicholas E. Cornish, and he came from Worcestershire. One day, on one of my trips abroad, I shall go there and try to find out about my English grandfather. Given the cheerful ways he lived in Shanghai, it would be fun to find out if there are any English skeletons in the Cornish family closet!


---

Webmaster's Note in 2011: We know of two Chinese "wives" who each bore a child with NE. Ling-Ling Tai was the mother of Elizabeth Cornish Fei, and another wife, name unknown, was the mother of John Smith. Although NE had a daughter Annie from his earlier marriage to Annie Nicholson, it was not NE's daughter, but his nephew and niece, Ted and Lyle Faithfull, who took care of NE in his old age.


---