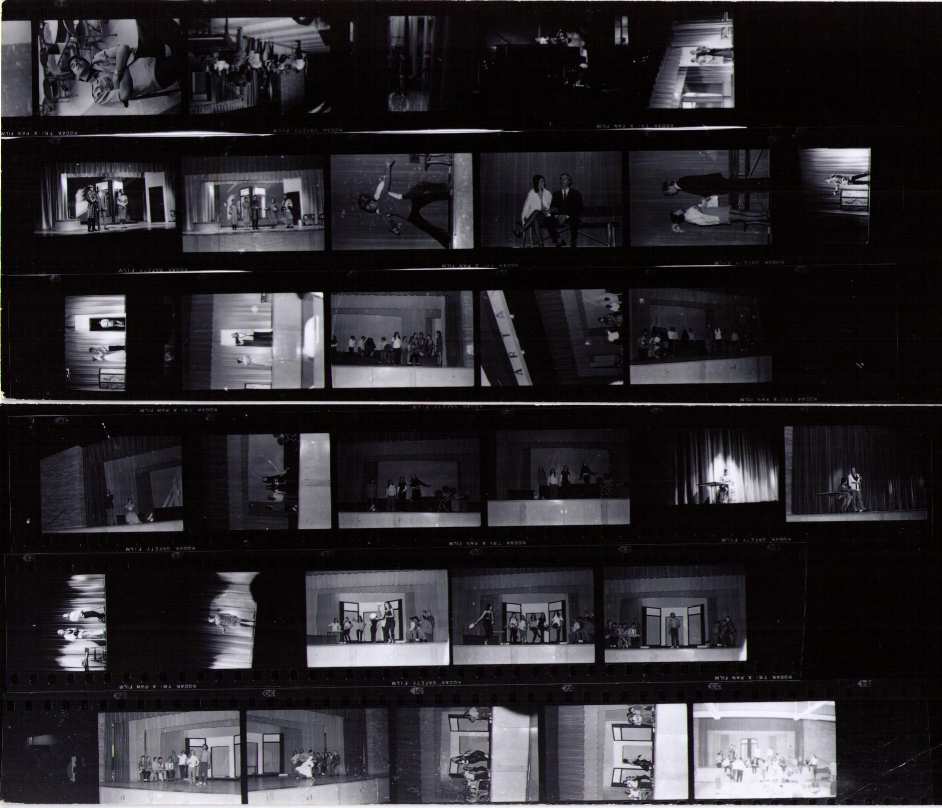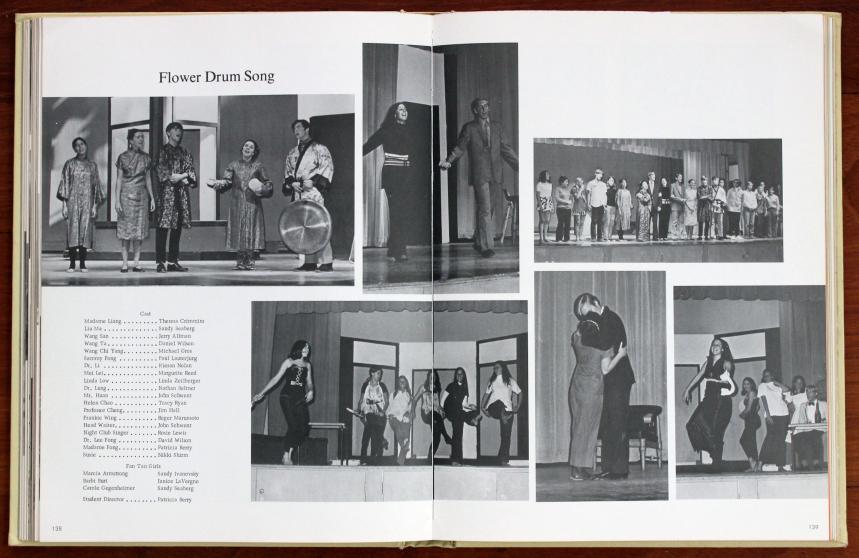 Cast: Teresa Crimmins, Sandy Seaberg, Jerry Allman, Daniel Wilson, Michael Gros, Paul Lauterjung, Kieran Nolan, Margurite Reed, Linda Zeilberger, Nathan Beltner, John Schwent, Tracy Ryan, Jim Hall, Roger Marumoto, John Schwent, Rosie Lewis, David Wilson, Patricia Berry, Nikki Shirm, Sandy Ivanovsky, Janice LaVergne; director Patricia Berry. The lower-right picture in the layout is a mirror-image of the original. The page editor must have asked me to reverse it so that the characters face into the page instead of out. Or maybe I suggested it. It was a simple matter of flipping over the film negative in the enlarger during printing.
Flower Drum Song
The Rodgers & Hammerstein musical Flower Drum Song is about the clash between the Chinese and American cultures in San Francisco Chinatown. It has several memorable tunes such as "Grant Avenue" and "I Enjoy Being a Girl." (Well, at least I remember them.) My favorite scene is where the elderly Chinese family patriarch, played by Mike Gros, is asked by the police to identify a robber, but he can't because "all white men look alike."

My friend Dwight Dunaway was a set designer for the play. He thought it would be good to make some Chinese family association banners for one of the scenes. So I had my parents create some large banners using IBM computer fanfold paper with authentic Chinese calligraphy written in large characters across the paper. But instead of saying something like "Wong Family Association Good Fortune," it had an old saying, "Loud Farts Not Smelly, Smelly Farts Not Loud." Another banner said "Mr. Hershey Is a Great Master Teacher," but with the characters in reverse order, which in Chinese tradition is like saying "Mr. Hershey Is a Great Teacher -- NOT -- ha, ha."

Dwight and I had visions of a few literate Chinese audience members cracking up. However, the banners ended up not being used in the play, except at one rehearsal.