Trail to Bumpass Hell
Lassen Volcanic National Park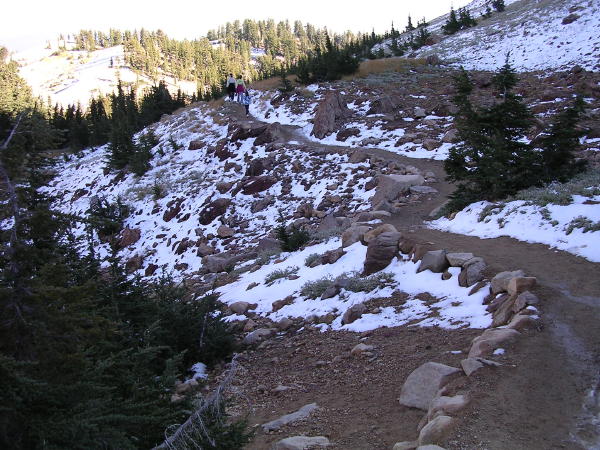 Perhaps the most famous place in Mt. Lassen Volcanic National Park is Bumpass Hell, an area that has geothermal mud pools, vents, and boiling pots -- hot stuff coming out of the ground. It was named after Kendall Bumpass, a 19th century explorer who hoped to exploit the area as a mine or tourist attraction, but he ended up falling into a boiling pool and losing a leg as a result.

Today you can reach Bumpass Hell by hiking about one mile from a parking lot on the main highway through the park. A series of boardwalks and railings make it safe to explore, as long as you follow the rules and stay on the boardwalks. I thought it was pretty interesting, but my family hated it! They couldn't wait to leave! It stank of sulfur. I went to the very end of the boardwalk and took some videos of the bubbling mud. The rest of my family just took one glance, then turned around and left.

The picture above shows a winding trail as you approach the geothermal features.

For a more complete description of the hike to Bumpass Hell, see Kevin's Hiking Page. He does a really good job of showing Bay Area and California hikes in detail, with lots of information and photos.


---