Cinder Cone Hike
Mt. Lassen Volcanic Park



Cinder Cone is a small volcanic mountain in the northeast corner of Mt. Lassen Volcanic National Park. We hiked along the lava beds, up the mountain, and around the crater at the top. This was my favorite part of the whole Mt. Lassen trip.


Whoever named this place didn't have much imagination. The cinder cone hill was named Cinder Cone, and the nearby fantastic lava beds were named Fantastic Lava Beds. The multi-hued volcanic dunes by the mountain are called Painted Dunes.

To get to Cinder Cone from the main road through Lassen Volcanic Park (Highway 99), you must exit the north end of the park, drive Highway 44 to Old Station, head east towards Susanville, and then turn south on a dirt and gravel road into the northeast corner of the park. The dirt road ends at Butte Lake.

From the edge of the lake, you can immediately see an immense wall of dark, rocky lava that has flowed into and filled a large part of the lake. The lava has absolutely no vegetation and looks like it could have arrived just a few years ago, although it is actually hundreds of years old.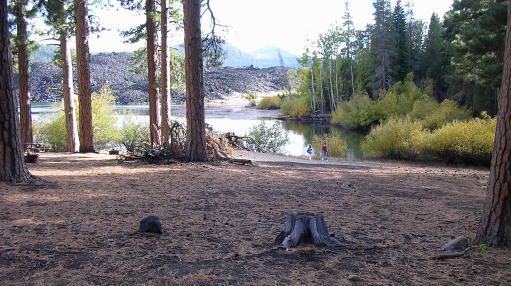 The trail to Cinder Cone starts at the parking lot, goes around the right side of the lake, and follows along the edge of the massive lava flow. You can walk right up to the lava and climb on top of it.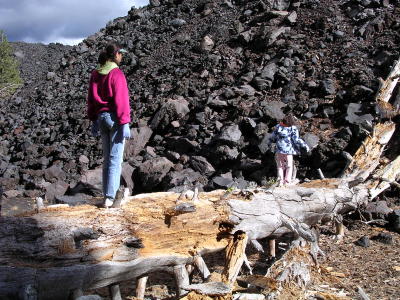 The trail goes about a mile and and half through a pine forest. As you get closer to Cinder Cone, the soil changes to a kind of sandy volcanic ash, and the forest thins out. Below is a view of Fantastic Lava Beds as you approach Cinder Cone. The Painted Dunes and the base of Cinder Cone can be seen on the right.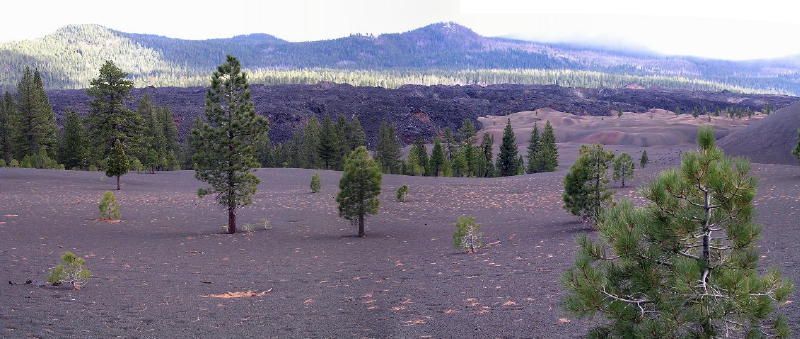 This is a panoramic photo, which I made by splicing together two wide-angle photos.


---